A self-indulgent account of my journey from 'Vanity' to the nature of the contemporary self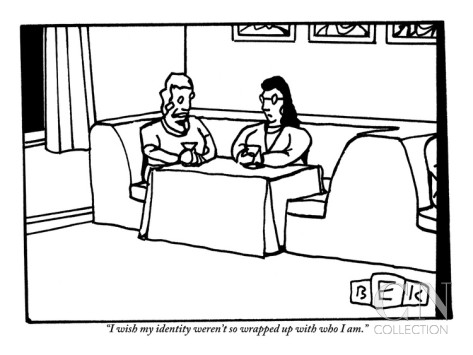 I started this blog because I was interested in understanding the history of the self. Based on the reading I've done so far, I can see that various academic disciplines (philosophy, sociology, critical and cultural psychology, cultural and intellectual history) have substantially different "explanations" for how and why the self has changed. I can identify explanations that seem compatible with my intuitive preconceptions (not the most objective approach, I know), but it's clear that the underlying assumptions of any one explanation are open to legitimate criticisms — most of which I'm not even aware of.
As a result, I hesitate. I am a complete novice with respect to this particular subject matter, and my background in these disciplines is the result of an incomplete and haphazard self-education.
Nevertheless, I seem to have arrived at a strong preference for the explanations offered by Nikolas Rose. Many (though certainly not all) of Rose's fundamental ideas are indebted to Foucault. I am not a student of Foucault, but — thanks to Rose — I have come to appreciate such concepts as problematization, governmentality, responsibilization (an extension by Rose of governmentality), normalization, techniques of the self, and the conduct of conduct.
I would much prefer to avoid using terms such as these in what I write. I appreciate the efficiency of communication that academic terminology provides, but unfortunately it limits one's audience. The nature of the self is potentially of interest to anyone, not just to those who engage in academic investigation and debate. Fortunately, Rose writes with the intention of being understood by a broad audience.
The meaning of vanity has changed
What drove me to read Nikolas Rose again — now that I'm just a bit more capable of appreciating him than I was ten years ago — was a book I read last year: Vanity: 21st Century Selves by Australian sociologists and gender theorists Claire Tanner, JaneMaree Maher and Suzanne Fraser. I was so enthusiastic about the book that I immediately wrote six or seven blog posts that discussed the book's contents. I didn't publish them (fortunately). Reading the book and writing those posts not only made me realize the meagerness of my knowledge of the contemporary self, but just how much I wanted to increase that understanding.
The subject matter of Vanity was close to my intellectual heart. As I summarized the book:
Vanity deals with many of my favorite subjects: the pursuit of the ideal body justified as the pursuit of biological health; the pursuit of beauty rationalized as the pursuit of psychological health (self-esteem); the validation of fat stigma on grounds of both biological health and the imperative of self-esteem; the validation of age stigma disguised as a matter of health ("the medical push to … see old age as 'failure and breakdown' "); and the critique of social media and blogging as narcissistic.
Vanity examines the concepts of narcissism and vanity, pointing out how the meaning of vanity has changed. Not that long ago vanity was an undesirable quality. That became less true in the concluding decades of the 20th century. What used to be judged as vain can now be praised as evidence of self-esteem, taking responsibility for one's self, self-improvement, empowerment, self-realization or self-actualization (assuming we alter our previous understanding of what it means to be authentic), and — with respect to social media — simply being sociable.
Opportunities to reflect on how we invent ourselves
I was already somewhat familiar with this subject matter, though not with the newly acquired "good" meaning of vanity. I had started my other blog in order to investigate healthism, and this had led me to such things as healthy lifestyles, the climate of neoliberalism that promotes personal responsibility, and the self-improvement argument for cosmetic surgery. Vanity, however, relentlessly confronted me with the nitty-gritty of what's involved in being a self these days, from the use of empowerment to motivate candidates on The Biggest Loser to journalists going batty over a photograph of 62-year-old (almost 63!) Helen Mirren in a bikini. How did we end up with a self preoccupied with self-esteem, personal branding, and how many Facebook friends we have?
Like healthism, this is a change that occurred in my lifetime. When I first encountered the idea of healthism, it struck me as an opportunity to observe the strings — the mechanisms, as Rose would say — that maneuver our thoughts and behavior. Our changing sense of self offers a similar opportunity.
Rose repeatedly refers to the possibility and value of becoming aware of the taken-for-granted world. Every so often he will say, in effect: The reason it's important to understand the mechanisms responsible for the way we experience ourselves is so we can exercise choice, exert some control, and avoid the undesirable aspects of things such as being governed by our own freedom. There is, for instance, this concluding sentence from Inventing Ourselves:
[I]f we cannot disinvent ourselves, we might at least enhance the contestabiltiy of the forms of being that have been invented for us, and begin to invent ourselves differently.
This is essentially the same idea that appealed to me many years ago when I first learned about the sociology of knowledge. It's captured by an image from Peter Berger's Invitation to Sociology:
Unlike the puppets, we have the possibility of stopping in our movements, looking up and perceiving the machinery by which we have been moved. In this act lies the first step towards freedom.
Nikolas Rose and the authors of Vanity are sociologists (or, more broadly, social theorists). When I was in graduate school in the 1970s, my professors (of the history of science and medicine) deemed sociology unworthy of a place in academia. What social theorizing offers, however, is an opportunity to see through what Berger calls the "facades of social structures." Once we recognize the strings and facades that determine our lives, the world can look different. We realize, for example, that there's a complex web of strings creating our desire for the ideal body, serving interests that may not be our own. We realize that holding certain individuals personally responsible for insufficient enterprise or self-actualization all too readily becomes a justification for inequality.
Thank you Vanity. Thank you Nikolas Rose. And thanks to everyone — academic, blogger, author, journalist, tweeter — who endeavors to illuminate the unexamined world in which we live our daily lives.
Related posts:
Work, leisure and the self
Self-help as psychological healthism
The flexible self and the inflexible individual
You are what you think
Reality shock
Why are we so willing to undergo cosmetic surgery?
Why do we feel bad about the way we look?
Exploiting vanity for a good cause
The death of Wang Bei: Cosmetic surgery as a moral choice
Character, personality, and cosmetic surgery
Imagine a future without cosmetic surgery
The duty to be happy
The problem is you
Image source: Conde Nast
References:
Claire Tanner, JaneMaree Maher and Suzanne Fraser (2013), Vanity: 21st Century Selves
Nikolas Rose, Inventing our Selves: Psychology, Power, and Personhood
Peter Berger and Thomas Luckmann, The Social Construction of Reality: A treatise in the sociology of knowledge
Peter L. Berger, Invitation to Sociology: A Humanistic Perspective